Multiple measurements with a single device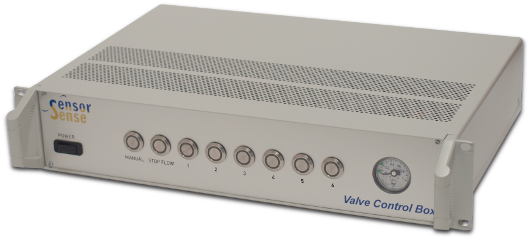 Parallel measurements of more biological samples are now possible thanks to a newly developed gas handling system. This is an indispensable tool, fully automated and computer controlled for measuring up to 6 sampling cuvettes per experiment (can be increased to 12, 18, etc). All components of the gas handling system are completely integrated in the device, providing an easy way to set up experiments.
Both on-line and accumulation measurements can be performed; choosing the type of measurement or switching between them is simply done by selecting the desired option in the user interface.
The valve control box has user friendly software, special designed to process and display in real-time the data provided by our ETD-300 ethylene analyzer. No additional software is necessary: data ready to publish!
During the measurement the following information can be displayed:
raw data
smoothed data
calculated data
base line subtraction
The valve control box can also be adapted to a stand-alone device on request.
For more information please contact us.