High quality, interference free and non-invasive water vapour measurements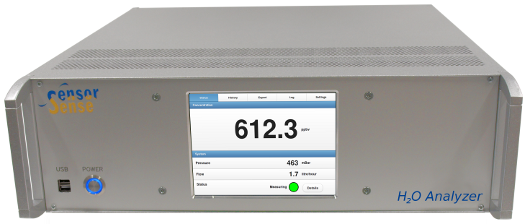 The H2O vapour analyzer provides sensitive monitoring of H2O vapour in ambient air or in industrial process with a detection limit (1σ) of 10 ppbv within 20 seconds. 
The instrument is based on Sensor Sense cavity enhanced laser absorption spectroscopic technique providing high quality, interference free, non-invasive H2O vapour measurements as as required for the most demanding industrial trace gas detection applications. The H2O vapour analyzer operates continuously and performs unattended online monitoring. With integrated electronics and software and no moving parts or optics that require realignment, the analyzer requires virtually no maintenance. The internal computer can store large amounts of data and can be accessed remotely via USB or an internet connection. We offer complete technical and service support to our customers.
If you are interested how our H2O analyzer can be used in your application area, please click here, for all other questions please contact us.